Finally!
After almost a year of work, I'm making my first video game project public with this site opening!
As the title suggest, "Demetrios - The BIG cynical adventure" is an adventure game, in the classic Point & Click kind, but with a very personal touch. And handcrafted, Disney style, high resolution art.
The game is meant to be played on computers and is planned for release in Early 2016.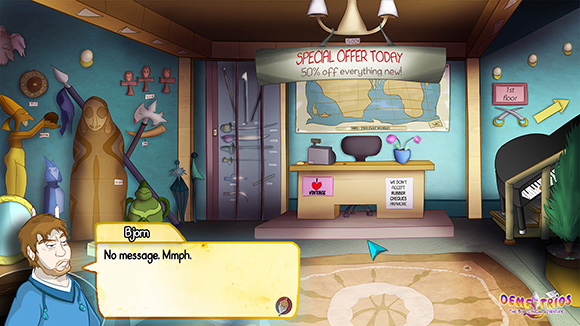 I'm doing everything myself, from programming to art through composing musics. It's a lot of hard work, and I'm a programmer who has never studied art - although I'm quite happy with the results so far (but you'll tell me!)
To know more about me or the project, check the "Game Info" and "Contact" pages.
I plan on making a trailer available soon, and then a playable demo in two months. (provided I can fix a few bugs and translate everything to french, so I can release it at the same time in both languages)
In the meantime, have a look at the screenshots and let me know your opinion!
Also, if you're interested, don't forget to subscribe to the newsletter (in the left menu), so you'll know when a trailer or a demo becomes available!
Tweet